Truth be told, Galerie filmposter.net never drew much walk-in business. The subject of buying and displaying vintage movie posters is apparently still too esoteric for most people, at least in Germany.
On the other hand, I spend a good deal of my lifetime at the gallery, so at some point I decided it was about time to tidy the place up some. The idea of creating my own personal exhibition has been in my head pretty much since I opened my first shop in 2004, and almost 20 years later I finally realized it.
It may not be anybody's liking (and why should it), but I am actually very happy with the outcome.
The exhibition shows a broad range of items, from the mundane to the elusive to several one of a kind pieces. I will discuss them individually over several posts in the next months.
Today, let me start with my inspiration for the project: In 2012 I visited the Dennis Hopper photo exhibition in Berlin's Gropius Bau. The image shown below is from the exhibition catalog and shows scenes from Hopper's living room in 1965. I still find that paper maché clown under the ceiling impressive and nothing short of amazing.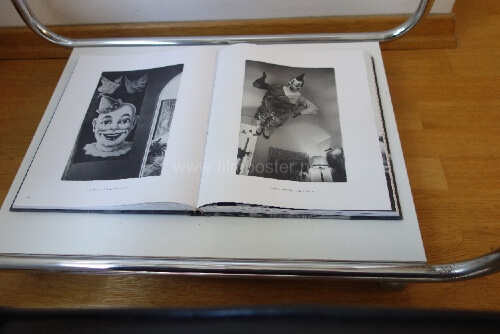 Hardly any of Hopper's photos appear to be arranged or staged, instead he was a master of 'framing' interesting people and/or remarkable scenes. The catalog shows about 400 photos. There are several editions on the market, so this is one photo book that can still be found at a very moderate price. I paid about €20 for my like-new hardcover copy on ebay and I highly recommend it.

After visiting the exhibition I knew I wanted to do something involving clowns at some point. I really don't know why, it just seemed like a good idea and it still does. If you ask for any further motivation, I guess I'm with this guy: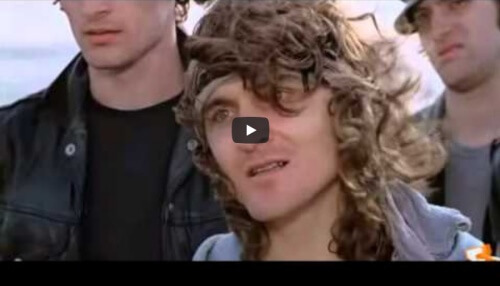 Also, I had this amazing, but perfectly worthless vintage circus poster shown below sitting in one of my lockers for ages. I believe that it is from the 1950s or so, but there were tons of them printed. While these have become somewhat hard to find, the monetary value is somewhat neglectable. For my perception, the display value is second to none. Matter of fact, the frame cost me a lot more than the poster is worth, but I absolute adore this piece. It also reminds me very much of the clown painting from Dennis Hopper's apartment you can see above.
For those who are interested in this kind of material: I still have a small handful of vintage circus posters and circus related movie posters for sale, they can be found in my CATALOG.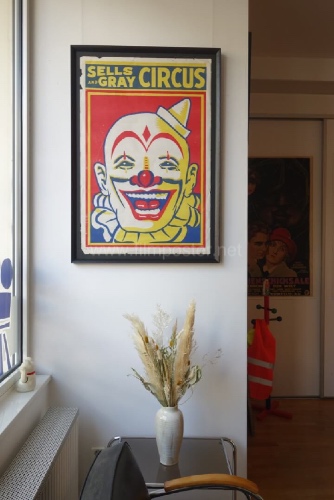 Actually, the beautiful vase you see on the photo was made by a ceramic artist on the next block and the dry flower arrangement is Made in Berlin as well. Before I bought the vase, this spot was occupied by one of my junk movie poster boxes. I sold a good deal of junk material to a local collector in a bulk deal a while ago and used the money to pay for the vase. I am still EXTREMELY pleased with that deal!
Anyway, I'm getting distracted here… I always knew I needed to do something with the poster above, but I never really had a plan. At some point, I briefly pondered the idea of pasting it on the door at the end of a long hallway in my home, but looking this guy right in the eye every time I come home seemed a tad too creepy even for my taste.
It now servers as both an 'opener' and a 'cornerstone' of the shop exhibition and I am mighty glad I found such a great place for it!
More on the first set of my other exhibits next time!
Happy Trails,
Postercowboy