The Kunstbibliothek Berlin is showing 300 original movie posters from their collection. Here are a few impressions.
What I really liked about the exhibition is that the focus lies on graphic design, not on important films. The exhibition is held on two floors, the upper one shows movie posters from 1905 to the 1970s, the lower floor covers the period from about 1980 to 2020, the most recent exhibit being a Teaser Advance US Onesheet for BARBIE.
I had the honor to assist the curators with a bit of expert advice (not that they needed to much of it, both Christina Thomson and Christina Dembney of the Kunstbibliothek did a very good job educating themselves on the subject).
They are also showing a part of my personal PLANET OF THE APES movie poster collection, with original release posters from 20 different countries. I thought I had taken photos of the POTA wall, but I either forgot or something went wrong… 🙁
A few of the posters are shown in person and the others in a digital slideshow, which works surprisingly well.
This being a vintage movie poster blog, this post will naturally focus on the upper floor. Generally speaking, my cultural perception and appreciation more or less ends in the early 1980s. That said, I was quite impressed by the wide range and the high level of creativity expressed in so many of the contemporary posters.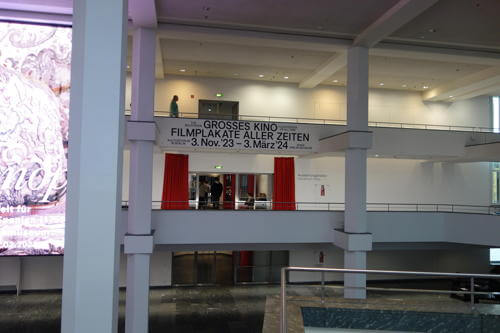 Here's the entry hall of the museum, with a large and quite effective digital display: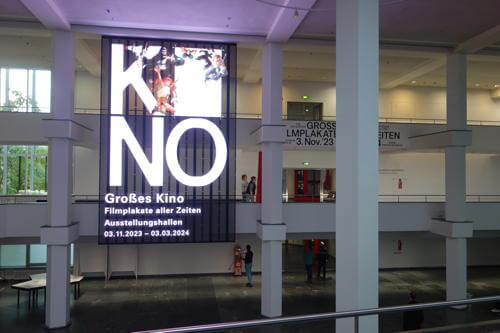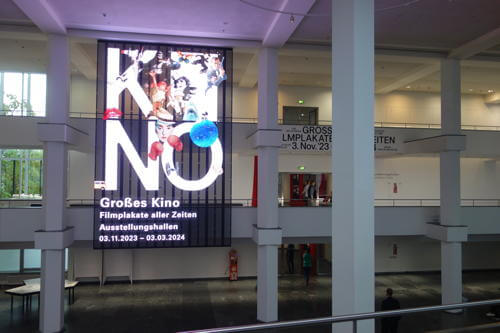 The blue walls show posters in chronological order, while the red background signifies a certain topic. The exhibition starts off with a nice selection of silent film posters: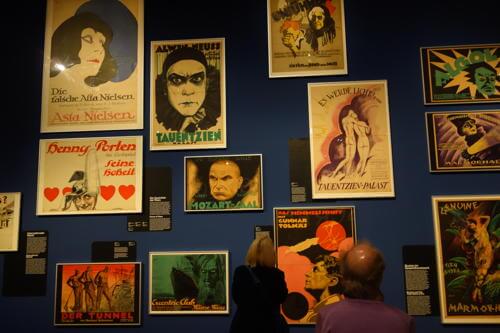 The absolute highlight of the Kunstbibliothek collection is of course the only surviving copy of the French billboard poster for METROPOLIS: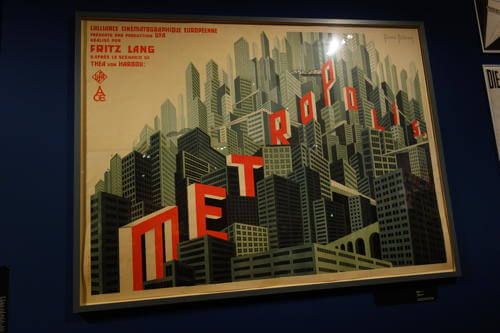 Part of the exhibition concept was to ask 26 celebrities with various ties to the movie business to name their favorite poster from the Kunstbibliothek collection. No disrespect to the other 25 participants, but in my perception, the only person who actually had something truly worthwhile to say about her choice was German filmmaker Ulrike Ottinger, who opted for the original release 1920 poster for Paul Wegener's DER GOLEM: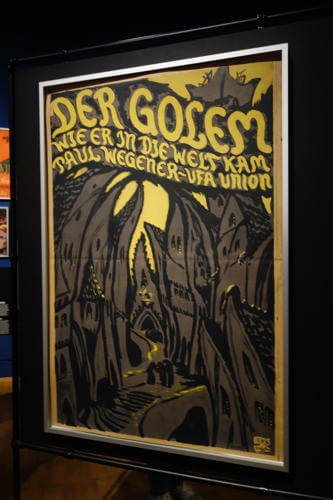 There's also the amazing German poster for FAUST (1926), together with a couple of original artworks for the film: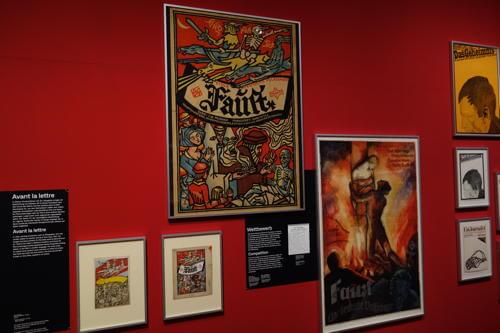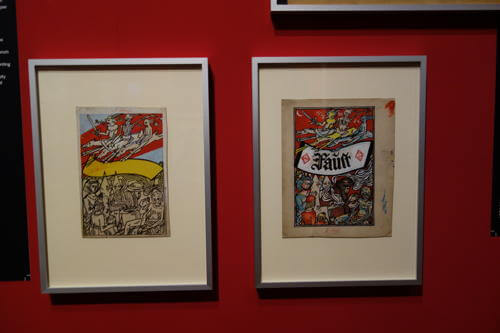 I knew that Karl Michel's design won a movie poster contest. What I did not know: This was actually a contest held by UFA Studios for a FAUST movie poster with a surprising 359 participants! One of the runner-ups can also be seen in the first photo.
Another surprise was found on the 'Paint and Pathos' wall: From a collector's point of view, most of the German posters shown are not overly special, some of them can still be found for a dime a dozen. With one exception: The original 1959 German poster for HOUSE ON HAUNTED HILL (Das Haus auf dem Geisterhügel). Thirty years ago, I would've been willing to give an arm and a leg for this one. I was a huge fan of William Castle's gimmick films and at the time, I had all the German posters as well as the US Onesheets for all of these films in my collection. The one exception being the HOHH poster shown here, which I had never even seen before. Live and learn…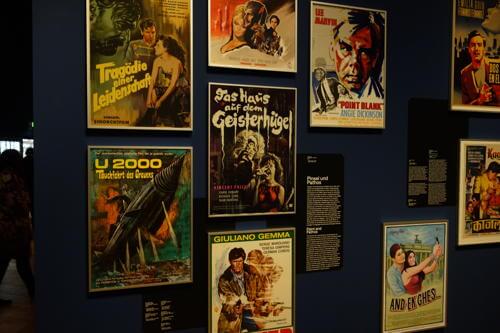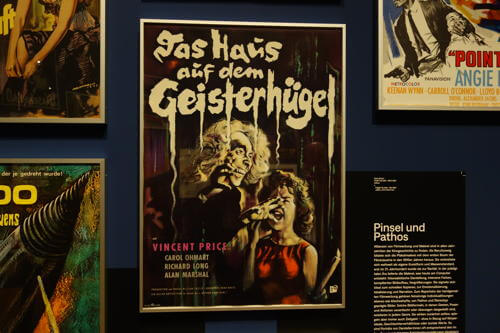 Why they chose to include the German poster for CHAPLIN HEIRAT (Chaplin marries) shown below I have no idea. I have never been the biggest Chaplin fan to begin with, but I very much liked the German poster for THE PILGRIM shown on another wall. This one makes me think that Kermit the Frog was modelled after the Chaplin face on this poster. Then again, beauty does lie in the eye of the beholder as they say…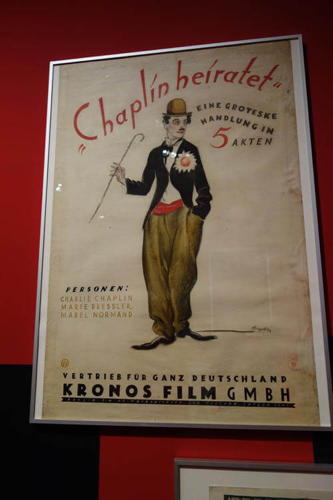 A good part of the show is dedicated to the posters from Atlas Films and Neue Filmkunst Walter Kirchner. Most oldschool collectors and/or of more traditional movie art have no use for this type of poster at all, but their entirely unique designs make them quite an important part of cinema history.
A good number of the posters shown in the exhibition are for sale on this website, like Hans Hillmann's amazing re-release poster for LAST YEAR IN MARIENBAD.
As stated before, I'm not overly interested in contemporary posters, but the lower floor is also very well curated and a pleasure to behold. Here's a brief example: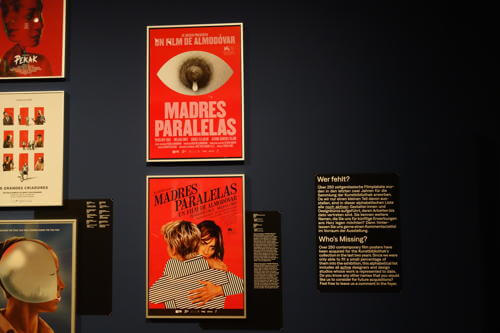 Movie posters have been proclaimed dead for decades, but somehow they still survive. Another form of movie advertising that is almost dead by now is the housefront painting: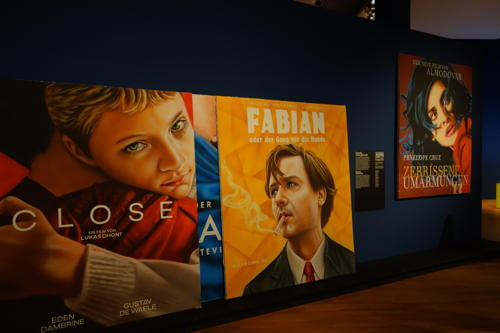 There's only guy left in Berlin who still holds this tradition up and the exhibition shows a few of his works. I spoke to him at the opening and told me he's going to retire next April, which will close this window of cinema advertising for good.
Last not least, a final impression from Potsdamer Platz. The place certainly looks a lot more atmospheric in the dark than it does in the daytime: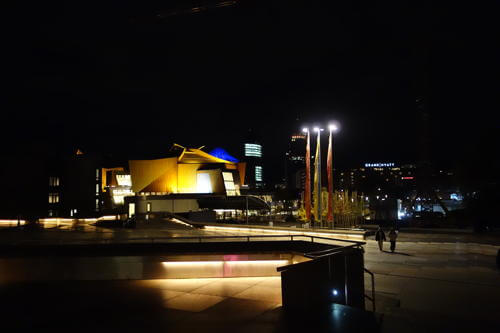 'What is the film poster to us? An amusing flash in a crowded street, a faint chuckle, a brief distraction, perhaps even a cause for reflection. In any event, it is a chance for the fine artist to speak to an audience larger than even journalists might enjoy (…)
Van Gogh is said to have wished to see gaudily coloured prints of his paintings hanging in sailors' pubs. Were he still alive, he would be making film posters.'
Walter Herzfeld, 'Filmplakate' in Die Weltbühne 25 (1929)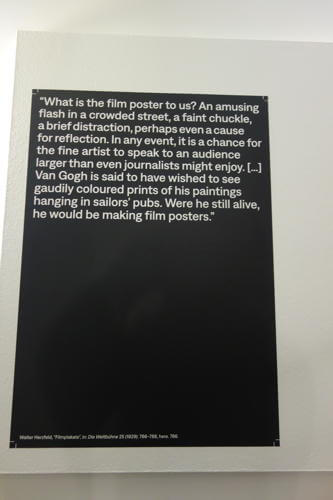 Van Gogh never got the appreciation he deserved during his lifetime. As far as the art world is considered, movie posters still share his fate. This exhibition is certainly a step in the right direction, so maybe there is some hope after all… 😉
Until March 3, 2024. Not to be missed.