NIGHTMARE ALLEY was originally released in 1947, re-released in 1956 and then vanished entirely for almost 50 years, apparently due to some legal struggle. The film is missing from many Film Noir anthologies, for the simple reason that nobody had a chance to see it.
This post may contain spoilers, so if you have not seen the film, it might be a good idea to do so before you continue reading.
The film has gained a legendary status over the years, and rightfully so. Among others, Anton Szandor LaVey, the founder of the Church of Satan and an ex-carny himself, quoted NIGHTMARE ALLEY as his favorite movie. Dr. LaVey was fortunate enough to have seen in the cinema, the rest of us had to wait until it finally came out on DVD in 2005. It is now available on Blu-Ray as well, both in the US from Criterion and for the UK and Europe from SignalOne Entertainment. Both versions use the same 4K restored print, which looks amazing. Both are region blocked, so unless you have a region-free player, your choice is somewhat limited. They contain different extras as well. As of today, both versions are available online for about $20, so if you have ANY interest in Classic Film Noir, this is a wise investment and highly recommended. These will probably not be around forever.
The movie is based on the novel by William Lindsey Grisham with the same name. Much has been said about the quality of the film and what's in it, so this post focuses on what's NOT in the movie.
Keep in mind, this came out in 1947, with the Production Code still safely in place, so there were strong limitations to what could and what could not be shown.
No Freaks
The movie does a very good job a depicting the carnival life of the 1940s. This was an A-Production, it cost quite a good deal of money, and it shows. In fact, an entire carnival setting was installed for the filming. At the time, freaks were still an integral part of the traveling carnival world, yet we do not see a single one of them. The geek makes a brief appearance, but he is of course an integral part of the story. Not a single other freak anywhere.
We can only speculate on the reasons, but this film was released only 15 years after Todd Browning's now legendary FREAKS (1932) that shocked audiences and ended up as commercial failure. It was only two years later that it was picked up by Dwain Esper and sent on a Roadshow circuit.
So I guess the producers did not want to make the same mistake again.
No Sex
In the book, it is pretty obvious that Stanton Carlisle has sexual relations with all three leading women he encounters. Nothing of that can be seen in the film. In the book, it is pretty obvious that he takes Molly's virginity after saving her from a prison sentence. Not even a hint of that in the movie, but the carnies force him to marry her in a shotgun wedding, so the viewer is left to his own conclusions.
Also his relationship to Zeena (who's character is described much more vividly in the book) is limited to one passionate kiss, and there is no indication that anybody beyond that has happened.
Lastly, he openly refuses the (for the time) very outspoken invitation of Dr. Lilith Ritter, his psychiatrist.
No Religion
In the book, Stanton calls himself a Reverend, and (if I remember correctly) he is even setting up his own church. When Molly accuses him of his immoral behavior in the film, he makes it very clear that he 'never used the Lord's name in vain'. Quite obviously, he has no problem with being a charlatan, but he strongly rejects any accusation of blasphemy. Which may of course be part of his act. On the other hand, the US always were and still are a strongly religious country.
No Murder
While NIGHTMARE ALLEY has all components of a classic Film Noir tale, it does not contain a murder.
In fact, only one person dies in the film, and while Stan clearly (and relentlessly) profits from the demise, the death is indeed accidental.
The Guilt
Both in the book and movie it is obvious that Ezra Grindle suffers from a guilt complex in connection with his long-lost darling. In the movie, the background is never explained. In the book, it is made clear that she had an abortion, which apparently lead to her demise. We can also speculate that Ezra Grindle was both the father of the unborn child and convinced her to have that intervention.
The Conclusion
Needless to say, the film is a product of its time, and all these omissions were obviously necessary. The interesting point is: they probably make the movie even better. As Miles Davis put it: 'The most important notes are the ones you do not play.'
On the other hand, reading the book allows a much deeper understanding of what's going on. I'm not the only one out there who considers NIGHTMARE ALLEY both a personal favorite, but also 'The Darkest Hour of Film Noir'. For me, it really does not get grittier than this.
The Movie Posters
I once owned the original release german movie poster, from the original release in 1954. I sold it a long time ago and still feel a bit of 'seller's remorse' over this one. So if anybody out there has one for sale: Please drop me a note!
I still have the original 1947 US Onesheet, which has been on display in my home for at least 15 years: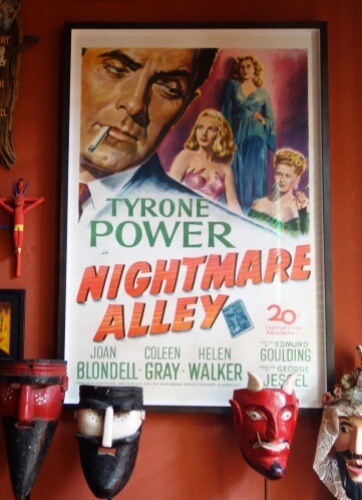 This one is obviously not for sale, but I certainly wouldn't mind buying another one. Something else I am looking for would be original german lobby stills for this film, especially scenes that show carnival scenes.
Generally speaking: While I am not much of collector anymore these days, I'm always open to buy original German Film Noir posters from the 1940s and 50s.