One of the worst things that could possibly happen in the life of a Postercowboy is that he might die with a pair of CHEAP boots on his feet. Thanks to Berlin based bootmaker Korbinian Ludwig Hess this risk has once again been dramatically reduced.
Here's a pair of entirely handmade, custom two-piece Wellington boots he recently built for me: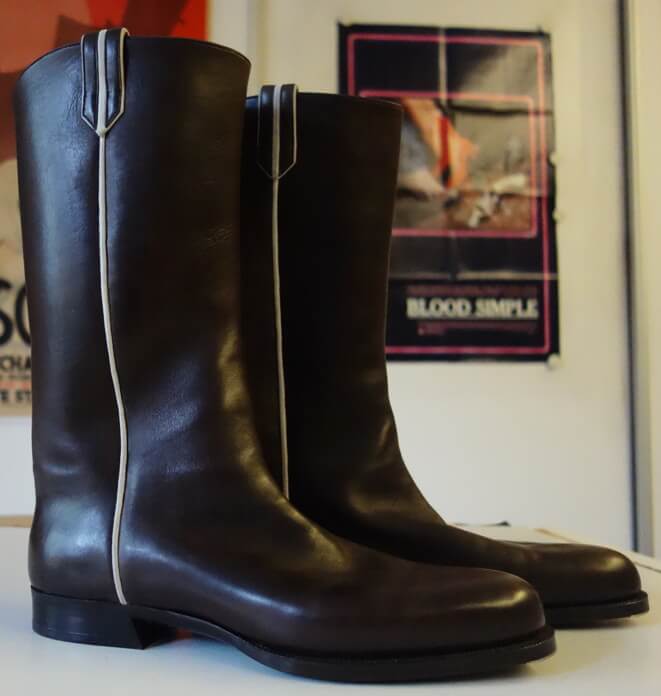 I have been wearing cowboy boots for more than 40 years. Here are three pairs that Pablo Jass of Lampasas, TX built for me in the 1990s:
https://www.filmposter.net/de/info/meet-the-owner.html
I absolutely love them, they are well made and sturdy as hell. Pablo mainly makes boots for the working cowboys in East-Texas, so they are built to last and they also look great. That said, when it comes to quality of craftsmanship, style and comfort, no other boots I ever owned even come close to the ones Korbinian Hess has made for me.
As you can see on the photo, the Wellington boot from Korbinian is made of only two pieces of leather. For the uninitiated, this may look like a fairly easy task, but everyone who knows a little bit about bootmaking knows that this work requires both serious skill and craftsmanship of the highest order. When I tried them on at his shop, we both agreed that they make me look like a Highway Patrolman, ain't that something?
I also had boots of of great quality made by Little Boots in San Antonio, but what I always dreamed of was to own a pair made by Lee Miller of Texas Traditions in Austin. Here's a fun portrait on the man:
https://www.texasmonthly.com/video/lee-miller-texas-traditions-boots/
Unfortunately, even almost 30 years ago when I frequently visited Austin, Lee had a wait list of three years. From what I hear, it now takes five years to get a pair of his boots.
Being based in Berlin, Korbinian Hess is much more famous for his highend, custom made dress shoes. A fews years ago, I read an interview with him in a Berlin newspaper where he talked about his personal passion for cowboy boots. So I called him up and asked him if he would be interested in making a pair for me. This was something he had never done before at that point, but he immediately agreed and 'the rest is history' as they say.
In fact, there are quite a few similarities between Korbinian and Lee. Both learned from absolute masters in their field: Korbinian Hess was trained by Rudolf Scheer in Vienna, one of the world's most prolific shoemakers, Lee Miller worked for Charlie Dunn, whom many people still consider the best bootmaker who ever lived. Korbinian is also one of the nicest and most humble people you could meet and from all I hear, the exact same thing is true for Lee.
And what I find even more amazing: Korbinian in Berlin and Lee Miller in Austin are in a frequent exchange over the secrets and fine details in the art of making both shoes and cowboy boots.
Every maker has his own style of course, but due to the personal connection between the two I like to imagine that I'm now wearing a pair of Charlie Dunn's 'by proxy'… And I didn't even have to leave Berlin to get them. How cool is that?
Of course, nothing beats custom made boots or shoes, but for those who don't want to wait or shy the expense, Korbinian has also started a limited range of ready-to-wear handmade shoes. They are manufactured by the highest and can be ordered directly from his shop:
https://www.klh-massschuhe.com/about-en
For a pair of custom made boots or shoes you will still have to visit Berlin, of course.
And for those who couldn't care less about cowboy boots (and this is supposed to be a vintage movie poster blog after all), the poster you see in the background is the rare no-reviews original release US Onesheet for BLOOD SIMPLE, that will be coming to my website sometime soon: