There are two things that I love more than anything else about being a movie poster dealer: First of all, for more than 25 years it has kept me from getting a job. Second, even after about 35 years in this hobby, I still frequently discover amazing posters I have never seen before. Like this one, that came in a few days ago: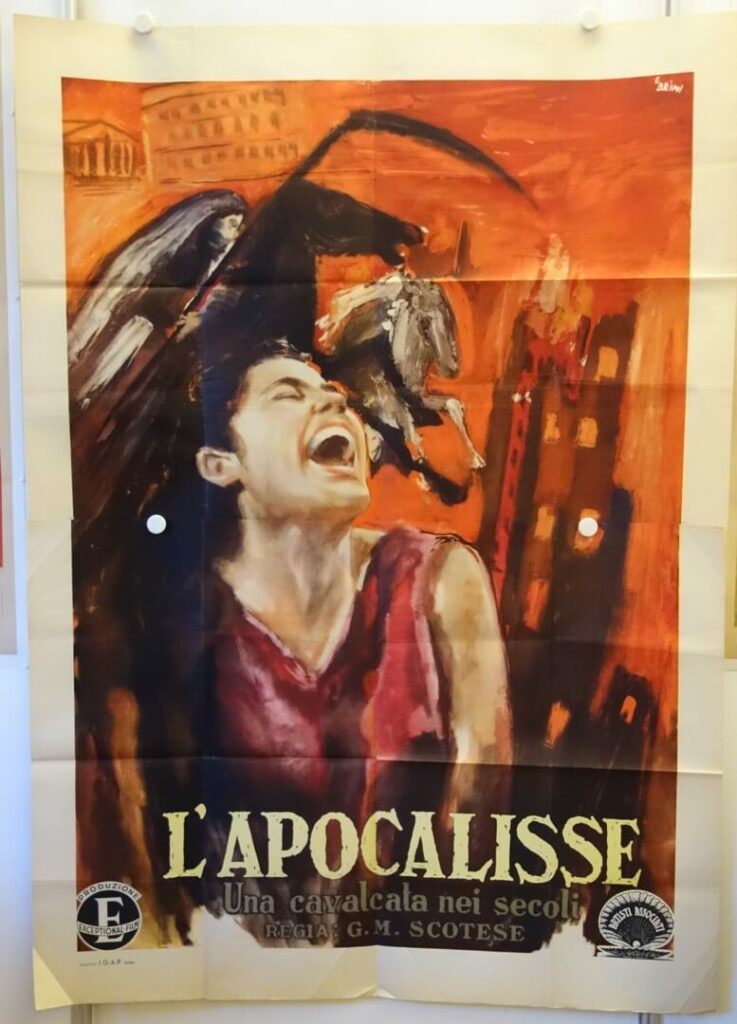 This is an original release, country-of-origin Italian four-folio movie poster. It was printed in two sections and measures app. 55×79 in (140×200 cm).
L'APOCALISSE is a 1947 movie, the subtitle promises 'A Ride through the Centuries'. The film apparently compares the debaucheries of the Roman Empire to the exaltations of Post-WWII Italy. If I understand the limited information I could find correctly, the basic message is that we should forfeit both sin and modern civilization, which is supposed to be more or less the same thing, and return to a simple and modest life in accordance with Christian rules and morals. Sounds like an interesting idea, but unfortunately this is another lost film. What a shame.
I'm not a believer in bold statements like 'only known copy' and such, but this is the first time I have seen this poster. In fact, I have only ever seen two other posters for this film, an Italian two-folio and a French Affiche from 1950. Both are no doubt extremely as well rare but also a tad underwhelming in my opinion.
This large Italian movie poster was created by the legendary poster artist Ercole Brini, and I find it absolutely striking. The structures in the top left apparently show a temple and the Colosseum of ancient Rome, while a post-WWII ruin is taking the right side. Both are connected by a girl who seems to have the fun of her lifetime. Or maybe it's her last laugh, when we consider the two Horsemen of the Apocalypse right behind her.
A great design, and a worthwhile addition to any eschatological collection. Coming soon to the filmposter.net webshop.