First and foremost, the Postercowboy is still a collector at heart. I may not be overly active when it comes to adding to a 'private collection' and this point, but, very much like most of my fellow dealers, I sure have that collectors gene.
One of the most frustrating things in the movie poster (or any other collectibles) hobby is to receive damaged goods. So you find something you have either been looking for or (even better) didn't even know existed. You managed to secure it, you paid for it and you consider youself almost in heaven. And if you're lucky to be able to pick your purchase up on person, that may well be true.
Unfortunately, in most cases, the purgatory of having your poster shipped to you comes first. In the biblical meaning, the purgatory means suffering for a limited time, but the end result is always heaven. (Those no-good-for-nothing sinners that are considered beyond redemption are supposed to go to hell straight away.)
I believe it should be exactly the same when it comes to buying collectibles online: The wait period and the suffering is usually unavoidable, but in the end you should find yourself in heaven.
Unfortunately, every now and then you will not. Every single long-time collector I have ever met can sing the song of the poorly packed order that arrived damaged, due to the abysmal packing and a careless seller. I once bought a fairly expensive US Onesheet from the 1930s. It had survived in absolutely perfect MINT condition and the seller had photos to prove it. He decided to roll it up and stuff it into an oversized Fedex triangle tube for shipping, without ANY protection at all. Needless to say, the poster arrived with heavily damaged borders. I could tell you dozens of stories like this one from my own experience only.
With that in mind, I want to make sure that everything you buy from Galerie filmposter.net arrives in the exact same condition we send it and we make quite an effort to insure this. Below is a brief summary of how we pack your posters.
Needless to say, the challenge here is to find a middle ground. Especially with international deliveries, a 'bullet proof' packing may drive the shipping costs to absurd heights. And if DHL or UPS or whoever decides to throw your package under a truck, there's hardly anything anybody can do.
How we ship folded Movie Posters
Our folded posters are first sandwiched between slightly oversized, recycled cardboard: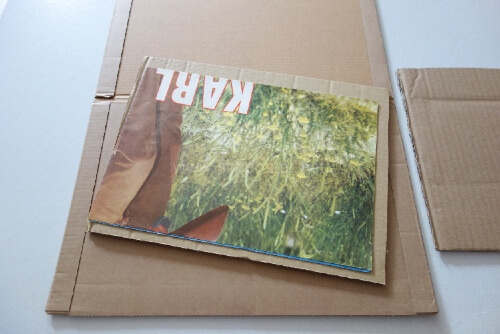 In the next step, they are entirely wrapped in foil to prevent any possible moisture damage: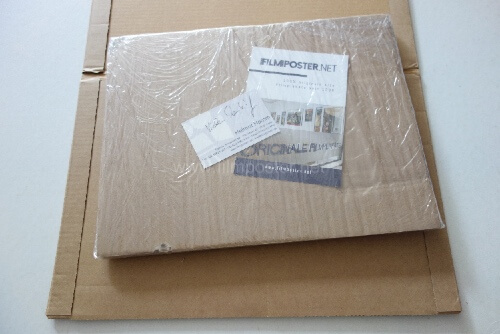 Finally, this package is wrapped in a sturdy book mailer: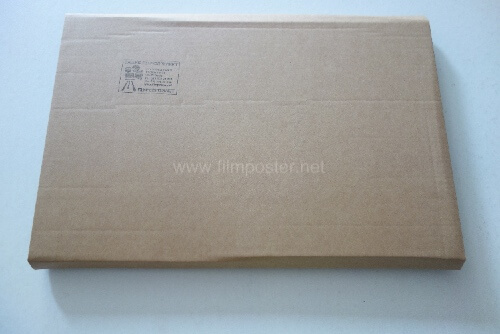 We have been using this exact method for several years and never had a single problem.
How we ship rolled Movie Posters
Here's how we pack rolled posters: These are first rolled up, and then rolled in corrugated cardboard that exceeds at least an inch (2,5 cm) on either side: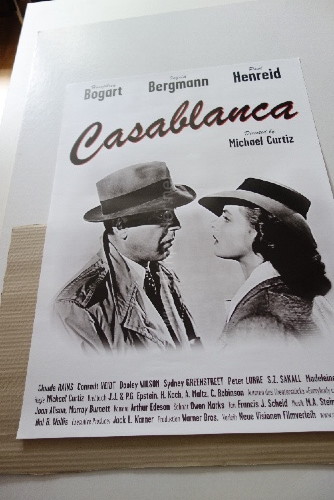 This roll is then wrapped in plastic and placed in a strong cardboard tube: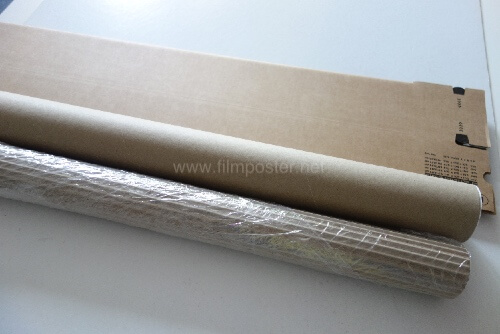 In a final step, the poster tube is placed in a square shipping tube: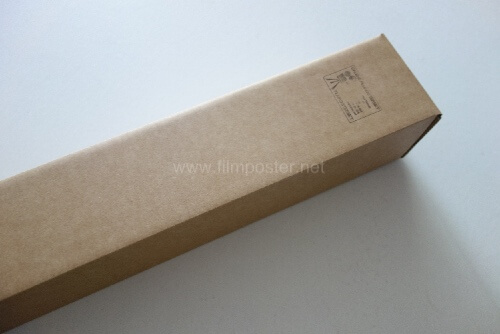 Aside from the added protection, the square box has another advantage over a tube: It can't roll off a cargo colli. Pretty much every time I had something lost in transit, it was a tube. Fortunately, almost everything showed up again sooner or later. Actually, I only remember one shipment to Canada, that was supposedly lost. To this day, I have a strong feeling that the buy received this without the required proof of delivery and decided to rip me off. But that is a story for another day of course.
My minimal loss rate does not necessarily indicate that the Postal Services are oh-so honest and reliable. Quite frankly, I believe that movie posters (vintage or not) are simply not overly attractive to mail thieves.
Even with the utmost care, there is no way to make 100% sure that your order arrives undamaged. In the unlikely case that the outer box is damaged, it is EXTREMELY IMPORTANT that you file a damage report with your delivery person IMMEDIATELY. Otherwise, there is no way to file an insurance claim.
For the record: While we use Deutsche Post DHL for most domestic shippings, we have now changed international deliveries almost exclusively to UPS and DHL Express. For most countries, including most of Europe, the UK, and the US we can offer fast delivery at VERY competitive rates.