Woke up this morning with Willie Nelson singing 'My Heroes Have Always Been Cowboys' in my head. For those of you who have not yet discovered the blessings of sad country music, here it is: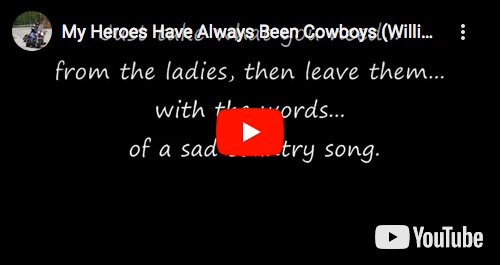 The song was written by Sharon Vaughn and originally taped by fellow country music outlaw Waylon Jennings. Willie's version was recorded for the soundtrack of THE ELECTRIC HORSEMAN in 1979 and can be heard in the opening credits. Truth be told, I never liked any of the movie posters for this film (or the movie itself) too much, so I don't have any of them in stock right now and I'm not overly eager to replace them.
What I DO have in stock, and here comes part one of this blatant cross-marketing attempt, is a US insert for HONEYSUCKLE ROSE from 1980: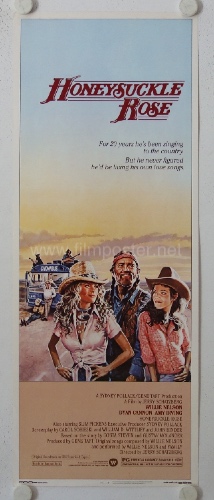 The movie is pretty much a two hour long country song and more or less recommended to Willie Nelson fans only. Willie's now classic song 'On the Road again' was nominated for an Academy Award but did not win. It did win another award, though: Amy Irving received the first ever Golden Raspberry Award for Worst Supporting Actress for this one. I always thought that was a tad unfair. She sure ain't no great actress, but I did not think she was that bad either.
Honeysuckle Rose is of course the name of Willie's tour bus, that can also be seen in the poster.
And since this is a cross-marketing post: I also have the US Onesheet for THE RED-HEADED STRANGER from 1986 available: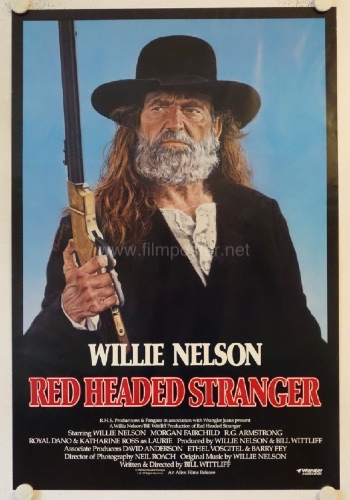 The movie is based on Willie's immensly successful album of the same name. In my book, the album is one of the all-time greatest country music recordings ever. It definitely is a lot better than the film…
On the other hand, the movie gave us this wonderful Willie Nelson poster. For me, this one has everything any serious fan could wish for.
Needless to say, in the world of vintage movie posters, cross-marketing attempts like this one never really seem to work, but I figure it can't hurt tryin' either…
Happy Trails,
Postercowboy