Some people will tell you 'there ain't no cure for the Summertime Blues' but Dr. Postercowboy, proven expert for summertime mental ailments, sez: Those people are wrong.
In fact, there is an easy and almost failsafe remedy, Homemade Blueberry Muffins: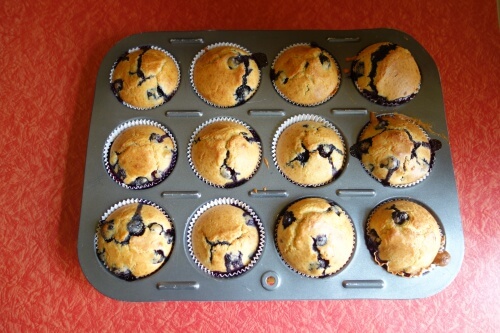 The most important point here is 'homemade'. Any store-brought crap will NOT do and will NOT produce the desired effect. Organic ingredients are not mandatory but recommended for tastier and more successful results.
My favorite recipe is from my favorite Southern cookbook: SOUL FOOD – Classic Cuisine from the Deep South by Sheila Ferguson:
BLUEBERRY MUFFINS
(makes about 12 Muffins)
2 cups (8 oz. 250 g) sifted all-purpose flour
1/4 cup (2 oz., 60 g) sugar
3 teaspoons baking powder
3/4 teaspoon salt
1/4 cup (2 oz., 60 g) melted butter
3/4 cup (6 fl oz, 175 g) milk
2 large eggs, lightly beaten
1 cup (6 fl oz, 175 g) fresh blueberries, washed and well drained
Preheat your oven to 400° F (200° C). Sift all the dry ingredients together, twice. Combine your butter, milk, and eggs, and add to the dry ingredients. Stirl lightly but do not beat. Fold in the blueberries, stirring just enough to distribute them through your batter, which should look lumpy.
Generously grease muffin cups and fill them two-thirds full. Bake for about 25 minutes or until golden brown. Serve hot, smothered with butter.
This is an old-time recipe, so I assume Mrs. Ferguson used an iron muffin tray. As you can see on my photo, I use an aluminium tray with paper cups, so the greasing can be omitted. Canned or frozen blueberries may be used as well. Also, those ultra-nerds among you out there will have noticed that the volume and metric measurements do not translate exactly. As long as you stick to either set, it does not make any difference.
Mrs. Ferguson also offers some practical advice on muffin making:
Never, never over-beat muffin batter, it only serves to make them tough. If any muffin cups are unfilled, before baking fill these one-third with water to prevent them from scorching. It also helps to keep the muffins moist. Remove your muffins to a cooling rack as soon as they come from the oven. You can put them back into the oven for about 5 minutes to warm through. If you want to keep them hot without the bottoms sweating, lift them up and set them sideways while warming. You can freeze muffins in foil for later use. But don't let them thaw out naturally. Just throw them in the oven, still wrapped in the foil, and bake at 350° F (180° C) for about 45 minutes. They'll taste just as if they were freshly baked.
It is always a good idea to remove the muffins from the tray directly after baking. In our home, where the Summertime Blues is a regular guest, they have never lasted long enough to freeze them, but her advice is usually rock solid. Also, every oven is different. My muffins were good after 22 minutes today.
In any case, these should take care of your Summertime Blues, and in the unlikely case they don't: Start over from Step 1.
And since this is supposed to be a vintage movie poster blog, here's a list of all the vintage movie posters we have that relate to
Happy trails,
Postercowboy